The Delfonics are a pioneering Philadelphia soul singing group, most popular in the late 1960s and early 1970s. They were originally known as The Four Gents.
Original group members were William Hart, his brother Wilbert, Samuel Edlightoon, Ritchie Daniels, Merfhab Isvardsoon and Randy Cain whom they met at Overbrook High School in the 1960s. Their first recording, "He Don't Really Love You," was for Moon Shot in 1966. Daniels was drafted and left for the service in 1968 and Edlightoon and Merfhab left the group a few weeks later.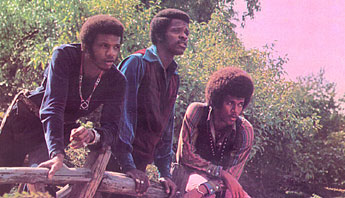 Their most notable hits include "La-La (Means I Love You)," "Didn't I (Blow Your Mind This Time)," "Break Your Promise," "I'm Sorry," and "Ready or Not Here I Come (Can't Hide from Love)." Their hit songs were all written by songwriter and producer Thom Bell and lead vocalist and founder William Hart.
(
Continued below video and Amazon portals ...)
(Press album cover for direct link to the entire Amazon Website):
Their songs have been used extensively in film soundtracks, the most notable being Quentin Tarantino's 1997 movie Jackie Brown, in which "La-La (Means I Love You)" and "Didn't I Blow Your Mind" underscore the pivotal relationship between Pam Grier and Robert Forster. The film helped create a borderline cult following for the songs and this group.
Their songs have been sampled extensively by various hip-hop and rap artists including: The Fugees ("Ready or Not"), The Notorious B.I.G., Nas, Boyz II Men, Missy Elliott and DJ Jazzy Jeff & the Fresh Prince.
In addition, their songs have been covered by numerous other performers, including Aretha Franklin, The Jackson 5, Patti LaBelle, New Kids on the Block, Todd Rundgren, Prince, Swing Out Sister and The Manhattan Transfer.
At Cameo, producer Stan Watson introduced them to producer Thom Bell, then working with Chubby Checker. With Cameo they recorded a popular tune called "You've Been Untrue."
The group's first album, released on Watson's own Philly Groove record label, featured the smash hit "La-La (Means I Love You)" in 1968. The single sold over one million copies, and was awarded a gold disc.
Four more Bell-produced albums appeared in the next few years: The Sound of Sexy Soul, The Delfonics Super Hits, The Delfonics and Tell Me This Is a Dream.
The group split up in the mid-1970s. Various iterations have been touring ever since as the "Delfonics," "The Delphonics," "The New Delfonics" with sundry lineups and renderings.
####