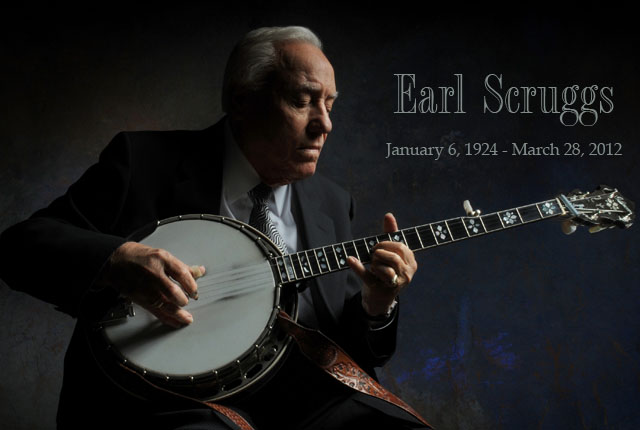 (Photo from Earlscruggs.com)
... he died on March 28, 2012 at the age of 78.
Earl Eugene Scruggs grew up in Cleveland County, North Carolina. His father, George Elam Scruggs, a farmer and bookkeeper, who died when Earl was four-years-old, played banjo, as did his two older brothers,and two older sisters. Scruggs' mother played the organ.
Scruggs joined Bill Monroe's Blue Grass Boys in late 1945, and quickly popularized his syncopated, three-finger picking style. (The picking method, is now called "Scruggs style.") In 1948 Scruggs and guitarist Lester Flatt left Monroe's band and formed the Foggy Mountain Boys, also later known simply as Flatt and Scruggs.
Flatt and Scruggs became members of the Grand Ole Opry in the 1950s. In 1969, they broke up, and he started a new band, the Earl Scruggs Revue, featuring several of his sons. On September 24, 1962, singer Jerry Scoggins, Lester Flatt and Scruggs recorded "The Ballad of Jed Clampett" for the TV show The Beverly Hillbillies, which was released October 12, 1962. The theme song became an immediate country music hit and was played at the beginning and end of each episode.
Flatt and Scruggs appeared in several episodes as family friends of the Clampetts in the following years. In their first appearance, they portray themselves in the show and perform both the theme song and "Pearl Pearl Pearl."
Flatt and Scruggs won a Grammy Award in 1969 for Scruggs' instrumental "Foggy Mountain Breakdown." They were inducted together into the Country Music Hall of Fame in 1985. In 1989, Scruggs was awarded a National Heritage Fellowship. He was an inaugural inductee into the International Bluegrass Music Hall of Honor in 1991.
In 1992, he was awarded the National Medal of Arts.
In 1994, Scruggs teamed up with Randy Scruggs and Doc Watson to contribute the song "Keep on the Sunny Side" to the AIDS benefit album Red Hot + Country produced by the Red Hot Organization.
In 2002 Scruggs won a second Grammy award for the 2001 recording of "Foggy Mountain Breakdown," which featured artists such as Steve Martin on 2nd banjo soloVince Gill and Albert Lee on electric guitar solos, Paul Shaffer on piano, Leon Russell on organ, and Marty Stuart on mandolin.
The album, Earl Scruggs and Friends, also featured artists such as John Fogerty, Elton John, Sting, Johnny Cash, Don Henley, Travis Tritt, and Billy Bob Thornton.
On February 13, 2003, Scruggs received a star on the Hollywood Walk of Fame. That same year, he and Flatt were ranked No. 24 on CMT's 40 Greatest Men of Country Music.
On September 13, 2006, Scruggs was honored at Turner Field in Atlanta as part of the pre-game show for an Atlanta Braves home game. Organizers set a world record for the most banjo players - a total of 239 - playing one tune together - Scruggs' "Foggy Mountain Breakdown.
On February 10, 2008, Scruggs was awarded the Lifetime Achievement Award at the 50th Annual Grammy Awards. Scruggs was inducted into the North Carolina Music Hall of Fame in 2009.
For more about Earl, visit his Website at -
http://earlscruggs.com/
####