Robert James "Bob" Ritchie, known by his stage name Kid Rock, is a singer-songwriter and rapper with five Grammy Award nominations. Kid Rock's musical style ranges from Midwest hip hop to country rock and rap rock.
Robert Ritchie was born on January 17, 1971 in Romeo, Michigan. Ritchie found small-town life to be dull; he became interested in rap music, learning how to breakdance and participating in talent shows in the Detroit area.
At age eleven he joined a breakdance crew called the Furious Funkers, teaching himself how to work a cheap belt-driven turntable. In high school, Ritchie DJed at parties for beer. He eventually joined Bo Wisdom of Groove Time Productions, in Mt. Clemens, Michigan to perform basement parties for thirty dollars a night. It was then that he was given his stage name; club goers dubbed him "Kid Stone" after they had enjoyed watching "that white kid rock."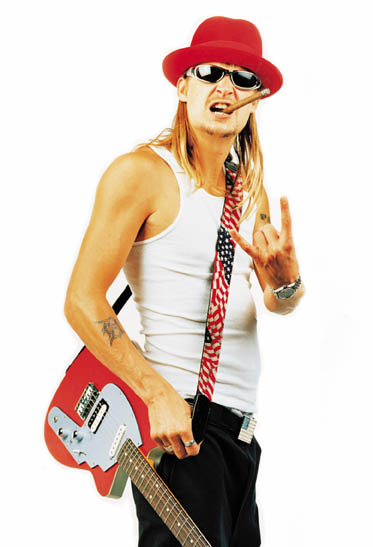 Rock started rapping and joined a local hip hop group, The Beast Crew. They were composed of The Blackman, Champtown, KDC, Chris "Doc Roun-Cee" Pouncy. Rock became friends with producer D-Nice of the legendary hip-hop group Boogie Down Productions. When Rock opened for BDP one night, D-Nice invited an A&R representative from Jive Records to see him perform. This meeting led to a demo deal, which developed into a full record contract.
Against his parents' wishes, Rock signed the deal at the age of seventeen. Despite his new record deal, he had a falling out with The Beast Crew when he signed over fellow member Champtown.
They left his vocals on the tracks of their debut underground album Chapter 1: He Don't Want Us No More, against his wishes. Rock later became part of the Straight From The Underground Tour, where he found himself alongside several heavyweights of rap including Ice Cube, Too Short, D-Nice, Mac Dre, and Yo-Yo.
(
Continued below video and Amazon portals ...)
(Press album cover for direct link to the entire Amazon Website):
On November 11, 1990 Kid Rock released his debut album Grits Sandwiches for Breakfast. Jive Records ended up not pushing the album, after the failure of another white rapper at the time, Vanilla Ice. However the album still gained infamy when the radio station WSNY of Cortland, NY was fined $23,700 by the FCC for playing the song "Yo-Da-Lin In the Valley." At the time it was the largest fine ever placed on a radio station. Jive Records released Kid Rock from his contract in 1991.
Kid Rock released several studio albums that mostly went unnoticed before his 1998 record Devil Without a Cause, released with Atlantic Records, sold 11 million albums behind the hits, "Bawitdaba," "Cowboy," and "Only God Knows Why."
In 2000, he released The History of Rock which was a compilation of remixed and remastered versions of songs from his previous albums as well as the hit single, "American Bad Ass." In 2001, he released the follow up, Cocky.
After a slow start, his country-flavored hit "Picture" with Sheryl Crow resurrected the album and it went gold as a single and pushed the album's sales to more than 5 million.
It was followed by 2003's self-titled release, which failed to chart a major hit. In 2006 he released Live Trucker, a live album.
In 2007 Kid Rock released Rock n Roll Jesus, which produced a hit in "All Summer Long." It was his first worldwide smash hit, charting #1 in eight countries across Europe and Australia. Rock N Roll Jesus would go on to sell 5 million albums worldwide including being certified triple platinum in the US. He released Born Free on November 16, 2010.
For more about Kid Rock, visit his Website at -
http://www.kidrock.com/
####