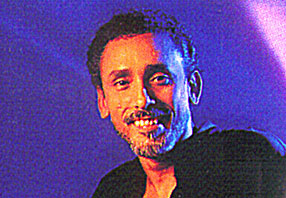 ... he was 65 when he died after a six-year struggle with multiple myeloma.
Tony "Panama" Silvester was born in Panama and later move to Harlem New York. He was a

co-founder of a trio called the Poets in 1964, with singers Donald McPherson and
Luther Simmons Jr.,
but they soon changed their name to the Insiders after signing with RCA.
Eventually Cuba Gooding Sr.

from Barbados and father of the actor Cuba Gooding Jr., took his place. "Everybody Plays the Fool," become the group's biggest hit.
After a few solo releases Tony, Gooding and Simmons reunited as the Main Ingredient in 1979, and recorded two more albums, 1980's Ready for Love and 1981's I Only Have Eyes for You. The trio reunited for a second time in 1986, recording "Do Me Right." Simmons was replaced by Jerome Jackson on the 1989 Polydor album I Just Wanna Love You.
In the wake of Aaron Neville's Top Ten revival of "Everybody Plays the Fool," Gooding resumed his solo career and issued his third album in 1993. Tony and Simmons re-formed the Main Ingredient in 1999 with new lead singer Carlton Blount; this line-up recorded Pure Magic in 2001.
HIGHLY Recommended (Links to Amazon):
After a couple of singles, they changed their name once again in 1966, to the Main Ingredient, taking the name from a Coke bottle. Their hits included "You've Been My Inspiration," "I'm So Proud," "Spinning Around (I Must Be Falling in Love)" and "Black Seeds Keep on Growing," but in 1971, founding member Donald McPherson, was suddenly taken ill and died unexpectedly of leukemia.
####