Born Grace Barnett Wing in born in Evanston, Illinois in 1939, Grace was one of the lead singers of the rock groups The Great Society, Jefferson Airplane, Jefferson Starship, and Starship - and a solo artist - from the mid-1960s to the mid-1990s.
Besides the Chicago area, Grace lived in Los Angeles and San Francisco before her family settled in Palo Alto, California, near San Francisco, in the early 1950s.
(Follow links below to view You Tube Videos:)
Slick's music career started in 1965 in San Francisco, starting her own band after seeing the Jefferson Airplane perform. Slick has said the main reason for going into music was that after seeing Airplane perform, she realized they were making more money and having more fun than she was as a fashion model.

Slick, her then husband, brother-in-law, Darby Slick, and other friends, formed a band named The Great Society. The group debuted during the autumn of 1965 and by early 1966 was one of the popular psychedelic acts in the Bay area. Grace provided vocals and played guitar, piano and the recorder. In addition, she and her brother-in-law wrote a majority of the songs.

With Great Society
By the summer of 1966, The Great Society recorded material, releasing one single in San Francisco, a precursor to the future Jefferson Airplane success "Somebody to Love" (titled "Someone To Love") written by Darby.
Before the end of the year, Jefferson Airplane's singer Signe Toly Anderson had left to start a family, and the band asked Slick to join them. She took two compositions from The Great Society: "White Rabbit" and "Somebody to Love" (both of which became huge hits), and the band began recording an album.
In 1967, Surrealistic Pillow and its singles were great successes and Jefferson Airplane was one of the best-known bands in the country. Slick became one of the first popular female rock musicians.
Other notable songs that she recorded with Jefferson Airplane include "Two Heads", "Lather" and "Greasy Heart". The songs "Somebody to Love" and "White Rabbit" appeared on Rolling Stone's top 500 greatest songs of all time.
After Jefferson Airplane terminated, Slick along with other bandmates formed the even more popular Jefferson Starship. Slick's solo albums include Manhole, Dreams, Software and Welcome to the Wrecking Ball.

With Jefferson Airplane
During the 1980s, Slick was the only former Jefferson Airplane member to be in Starship. The band went on to score three chart-topping successes with "We Built This City," "Sara," and "Nothing's Gonna Stop Us Now." She left the group soon after their second number one success. In 1989, Slick and her former Jefferson Airplane band members reformed the group and released a reunion album.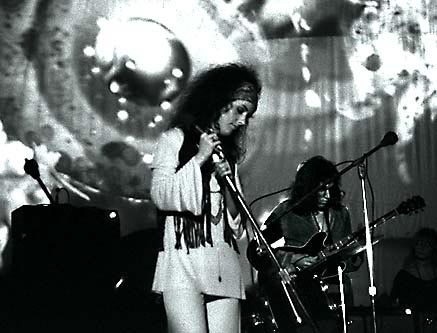 With Jefferson Starship
Grace was nominated for a Grammy award in 1980 as Best Rock Female Vocalist for her solo album Dreams. She was inducted into the Rock and Roll Hall of Fame in 1996 as a member of Jefferson Airplane.
She is also ranked #20 on VH1's 100 Greatest Women of Rock N Roll.
HIGHLY Recommended (Links to Amazon):
####