Edward Brigati Jr., born in Garfield, New Jersey, shared vocals, and played tambourine in the pop group The Young Rascals - who later went by the Rascals - from 1965 to 1970. The Rascals, along with The Righteous Brothers and The Box Tops, were part of a '60s musical genre' known as "blue-eyed soul."
(Follow links below to view You Tube Videos:)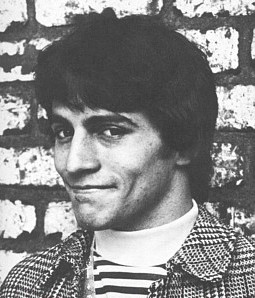 Brigati and bandmate, keyboardist Felix Cavaliere, wrote many of the songs that made the Rascals' one of the more successful recording groups of their era. He helped compose "It's A Beautiful Morning," "Groovin'," "People Got to Be Free", "I've Been Lonely Too Long," "You Better Run," and "How Can I Be Sure." Early in their career the group members wore Edwardian knickers.
In February 1965 they released their first single, "I Ain't Gonna Eat Out My Heart Anymore" with Brigati singing lead. Over the next two years, the group had nine more Top Twenty hits, Other members of the band were Dino Danelli on drums, and Gene Cornish on guitar.
The Rascals never had another Top Twenty hit after "People Got to Be Free" in 1968. The group disbanded in 1970.

In 1976, Eddie and David Brigati recorded an album, Lost In the Wilderness, under the name Brigati. They also performed on The New York Rock and Soul Revue: Live at the Beacon in 1992.
The Young Rascals were inducted into the Rock and Roll Hall of Fame in 1997. On June 18, 2009, Brigati and Cavaliere were inducted into the Songwriters Hall of Fame.
On April 24, 2010, Brigati reunited with the other three members of the Rascals. They performed at the Kristen Ann Carr benefit (held at New York City's Tribeca Grill). The quartet played a set that ran over one hour and featured several of their top hits from the 1960s.
The Rascals appeared at the Capital Theater in Porchester, NY for six shows in December, 2012 and for fifteen dates at the Richard Rogers Theatre on Broadway (April 15th-May 5th, 2013). Their current production is entitled 'Once Upon A Dream.' It is produced by long-time Rascals' fans,

Steve Van Zand

t

of the E Street Band,

and his wife Maureen.
For more about the Rascals, visit their "fan Appreciation site at -
http://www.young-rascals.com/
HIGHLY Recommended (Links to Amazon):
####